Contributed by Mika Sinanan, MD, University of Washington Medical School, Seattle, WA
Photos courtesy of Keith Stone M.D. , University of Florida, Gainesville, Florida

Polypropylene: a nonabsorbable, monofilament material that is the least reactive of all suture materials; it is used with continuous percutaneous suturing. Its disadvantage is that it has coiled memory, making it difficult to handle.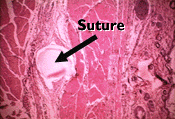 Nylon: a nonabsorbable suturing material that degrades in vivo by hydrolysis at a rate of about 125% annually. The advantages of nylon are good pliability and ease of handling. It is favored for interrupted percutaneous suture closures. Nylon sutures are available in monofilament and multifilament construction. Braided nylon sutures possess the same handling and knot construction characteristics as silk sutures, but unlike natural fiber, nylon is relatively nonreactive in tissue.


Synthetic absorbable: absorbable refers to the degradation and loss of tensile strength within 60 days. Absorption and loss of tensile strength are not interchangeable. The former is important only with regard to late suture complications; the latter speaks to the primary function of the suture -- maintaining tissue approximation.




Braided synthetic absorbable: useful for interrupted dermal suture and ligating bleeders.

Monofilament synthetic absorbable: indicated for continuous dermal suture.


---
Home | Welcome | Basic Science | Managing Your Residency | Board Review | Opportunities | Links | Contributors | Contact Us